Why Siena?
With its medieval hamlets, castles and the vineyards of Chianti and Montalcino, Siena offers magnificent landscapes in every season and for centuries it has been among the most painted and photographed sites in the world. It has been chosen by the most important international brands as the ideal setting for successful advertising campaigns and the perfect location for numerous major film productions such as The Gladiator, New Moon and 007 Quantum of Solace only to mention a few.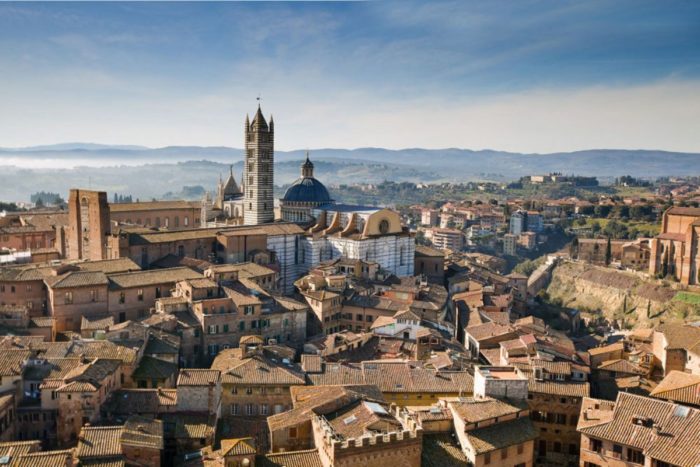 History: According to a legend Siena was founded by Senius and Aschius, the sons of Remus, who was the brother of Romolus after whom Rome was named. Although the mith is not of historical accuracy, various statues can be found throughout the city representing the twins breastfed by the mother wolf. According to a different legend, the city was originally founded further South in a place known today as Brenna, taking its name from Brennus, a Gaulish tribal chief of the Senones.
It is likely that the name Siena was derived from the patrician Etruscan Saina/Seina. What is certain is that the Romans established a lesser military colony here, Saena Julia, which developed over subsequent years into a small center of commerce. The oldest know document to mention the Sienese community dates back to the year 70 and bears the signature of Publius Cornelious Tacitus.
The province of Siena, stretching more than 100 km north of south, enfolds a vast and highly varied territory. The land hold many kinds of natural beauty that change as each sort of topography gives way to the next. The province may be divided into the following areas, each characterized by its own distinct landform: the Val d'Elsa to the northwest of Siena; Chianti to the northeast, with its green, vineyard-covered hills; the city of Siena itself, set among soft hills; the Val di Merse, famous for the swimming spots along the lovely River Merse; the Crete Senesi, the clay hills to the south of the city, with their rugged, nearly lunar, landscapes; the Val d'Orcia further to the south, with its ancient mineral baths, home also of the world-famous Brunello di Montalcino wine.