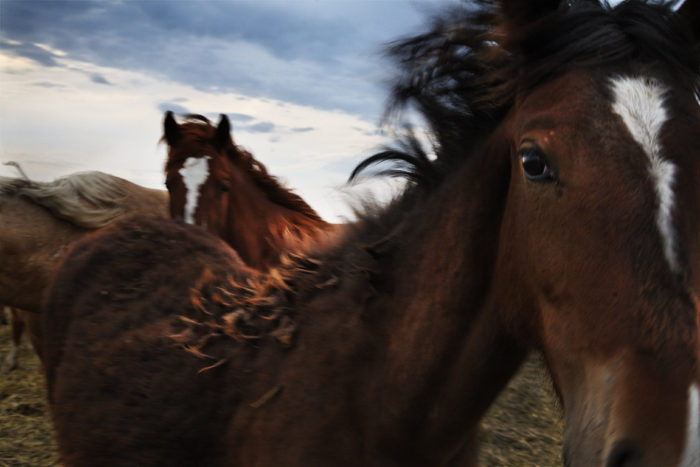 Description: Collection of images taken by the famous photographer Melissa Farlow
Ladies wearing flamboyant hats watch from the grandstands as thoroughbred horses thunder down the racetrack to compete for a purse of more than one million dollars. The winning horse is draped with a blanket of roses and will continue to race or earn his keep by breeding with mares. He will be pampered for the rest of his life.
Wild Mustangs, on the other hand, run for their lives as two helicopters roar overhead, stampeding them through dusty, sagebrush desert into a trap. After they are captured, they are trucked to facilities where they are branded and neutered. If lucky, they may be adopted, but most wild horses are separated from their families and lead the rest of their lives in captivity.
Equus represents power and speed. American horses have a relationship with man that is complex and filled with irony. Wild horses and thoroughbreds lead opposite lives although they are both spirited and bold.
Thoroughbred horses, products of refined breeding for agility and speed, make up a billion-dollar racing industry. In Kentucky, some racehorses live on prestigious farms in castle-like stone barns with chandeliers in the cupolas. Finely tuned athletes, they are groomed and trained in hopes their fast, short careers will bring their owners fortune and fame. A retired champion stallion may sell for 72 million US dollars. His stud services will command high fees as he passes on an elite bloodline.
Although the racing culture celebrates wealth and prestige and is known as the sport of kings, the backbone of the industry is built on a support community of veterinarians, groomsmen, trainers, jockeys, stable boys and others.
White fences line rolling hills of lush bluegrass in racehorse country making a picturesque backdrop. In the spring when the cherry trees bloom, it could be mistaken for a Hollywood movie set. The dry, windblown sagebrush desert could not be a greater contrast. Wild horses roam barren lands foraging for food in an increasingly developed American West. Nomadic herds are often fenced off from their waterholes and unable to graze on their traditional ranges.
The Thoroughbred as it is known today was developed in England, when native mares were crossbred with imported Oriental stallions of Arabian, Barb and Turkoman lineage. All modern Thoroughbreds can trace their pedigrees to three stallions originally imported in the 17th and 18th centuries.
Mustangs are a symbol of freedom, heroism, romance and the vanishing Wild West. They evolved in North America but seem to have disappeared 12 million years ago. They were reintroduced by the Spanish Conquistadors in the 1600s. Federal laws were passed in the 1970s to protect these animals. But pressures mount as drought, wildland fire, oil and gas exploration and cattle ranching encroach on the mustangs' traditional lands.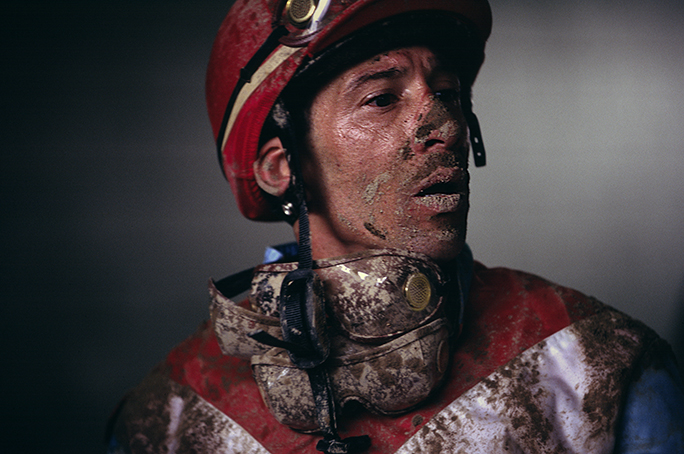 Location:
INFO
Location: Grand Hotel Continental | Via Banchi di Sopra, 85
Period: 2016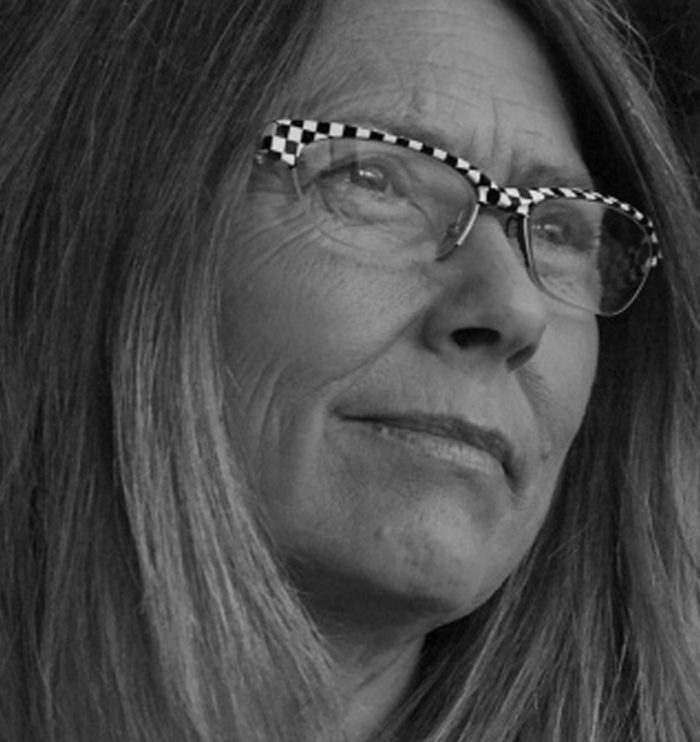 Photographer Biography:
Melissa Farlow is a freelance photographer whose assignments vary from people and cultural to landscape and environmental stories. She photographed 15 projects for National Geographic on topics including the Alps, Kentucky thoroughbred horses and America's National Parks. Working extensively in the American West, Farlow drove 20,000 miles working on stories about public lands and wild horses. She photographed two books for National Geographic, Wild Lands of the West and The Long Road South featuring the Pan American highway. In addition, WILD AT HEART, a book about the plight of wild mustangs premieres in late 2015 and is honored as a Junior Library Guild selection.
Farlow began her career at newspapers and won a Pulitzer Prize in 1976 for photographs of racial desegregation of public schools as a member of the staff of the Courier-Journal and Louisville Times. She won a National Headliner Award and while a staff photographer for the Pittsburgh Press newspaper, her portfolio and long-term projects were honored in POYi. Farlow was named Distinguished Alumni by the Indiana University School of Journalism and she was inducted into the Indiana Journalism Hall of Fame in 2013.
Farlow's images appear in magazines including Smithsonian, GEO, Sierra, Stern, LIFE and National Geographic Traveler. Her photographs are published in over 70 books including Day in the Life series as well as in The Photographs, Women Photographers at National Geographic, Best 100 Wildlife Photographs at National Geographic and Descubria, Ecuador. She documented women's roles in three African nations for the book Women in the Material World. Her photographs were made in over 25 countries and throughout the U.S. and are published in nearly 70 books on various topics.
Working for non-profits over the years, she did projects for the Heinz Endowments, the Ford Foundation, Habitat for Humanity and National Fish and Wildlife Foundation. She has served on the faculty of the Missouri Photo Workshop more than 25 times. Farlow and her photographer husband Randy Olson lecture, consult and mentor photographers with theimagereview through thephotosociety.org.