The "Palio di Siena" is the world's most exciting horse race which is celebrated twice a year in the Piazza del Campo (Siena's historic square), on July 2nd and August 16th, in honour of the religious holidays, the Visitation and the Ascension of the Virgin Mary, Lady and Patron Protector of the City. It has been held almost uninterruptedly since the days of the medieval Republic of Siena. It is a centuries-old race between the various districts of the city of Siena in which ten horses, each representing a particular district, ridden bareback by a jockey who races at breakneck speeds around the city's Piazza del Campo, surrounded by ancient buildings and cheered on by a passionate crowd of locals and tourists. The horses are selected and allocated by lot just three days before the race, must run bareback and there are only six trials beforehand. The responsibility for choosing and paying a jockey lies within each Contrada. The Palio is more than a simple horse race. It is the culmination of ongoing rivalry and competition between the districts (contradas), whereas, the race itself only lasts for a little more than a minute.
Siena & Palio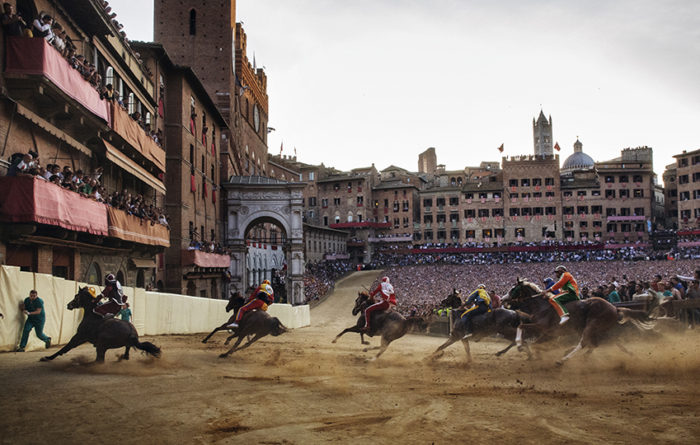 Description: you will be a guest in one of the prestigious venues of a Contrada, an exclusive journey discovering the Palio of Siena, the oldest horse race in the world, a combination of colours, traditions and overwhelming emotions passed on for over four hundreds years.
Meeting Point:
Info
Date: DATES TO BE DEFINED
Meeting Point: San Domenico's Church
Timetable: from 03:15pm to 04:45pm
Lenght: 1h 1/2
Language: Italian & English

Included in the cost:
● Guided visit to a Contrada and its district;
● Guided visit to a Contrada museum.

The cost excludes: everything that is not expressly referred to in "Included in the cost"